Synthesize. Analyze. Communicate.
We build easy to use application-based dashboards that integrate your data, conduct analysis, produce reports, and support effective communication with diverse audiences. We specialize in R Shiny for ecological and fisheries applications. 
 Some common dashboard applications include:
Data visualization and exploration
P

eriodic analysis & reporting

Engagement & communication with stakeholders

Data-limited stock assessment
Fishery decision-support
DASHBOARDS DESIGNED TO EMPOWER
Custom tailored solutions
We design, build, and maintain dashboards that are customized to your unique fishery or ecological endeavor. Our dashboards are for fisheries of all sizes and for stakeholder groups and community-led initiatives.
We help fishery management organizations to rapidly gain technical capacity and achieve effective communication. Our dashboards are user-friendly software applications. Our team writes the code, your team uses the interface.
Each application is a custom designed stand-alone product. Please contact us to discuss how we can help.
Value-added subscription service
To complement client investment in dashboard development, we offer a full-service approach to web hosting and on-going oversight of application products.
On-going scientific guidance
We also offer the option of on-going scientific oversight of dashboard-related data products. This option ensures that preparation of scientific reports, as well as data integration into your dashboard are handled by a qualified fishery scientist.
Grow your dashboards and web applications
Our subscription service includes consultant time to  incrementally update your dashboard's features. This approach continually improves your dashboard's utility, relevance, and visibility. 
Includes web deployment, user authentication & administration, user assistance, and persistent data storage. Plus, built-in consultant time tailored to your needs. Based on your service requirements, we offer a continuum of options, including incremental improvement or addition of new features, bespoke outreach and communication materials, and scientific oversight of report preparation, data analysis, and data integration & processing.
Please contact us for more details and for pricing.
Comparison of Nature Analytics subscription support bundle to other application hosting providers.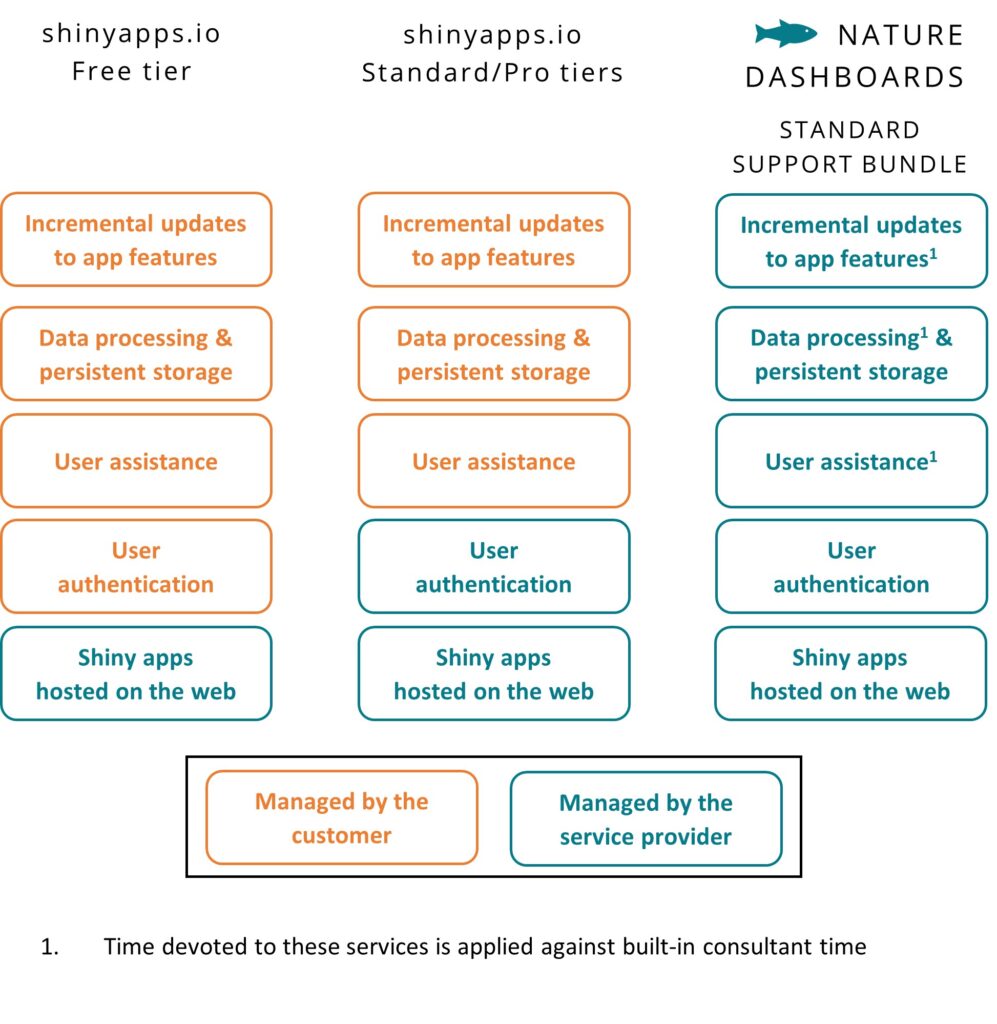 Our dashboards are coded using R Shiny. R Shiny enables specialized code for analysis and visualization to be linked to a user-friendly interface. Our team writes the code, your team uses the interface. Code and user interface can be easily modified. Dashboards can live on the web or on your desktop.