Interactive web applications enable your audience to gain deeper insights from your research. Go beyond the traditional readership of academic journals and share your research with technical and non-technical audiences alike. Create increased visibility, accessibility, and relevance, especially for applied science that supports stakeholder engagement and policy planning in natural resource management. 
Below we describe a project that highlights how web apps can help you to achieve the following: 
Develop connections with a broader audience.
Create a narrative to explain complex concepts through visualization.
Demonstrate analyses and mathematical simulations in real-time.
Our project began with provision of scientific advice for conch and lobster fishery management in Belize. After producing two peer-reviewed publications, the team's focus shifted to a new goal of sharing this research with fishers and other stakeholders. Sharing of this work was viewed as integral to facilitate collection of additional insights from stakeholders and decision-makers. To do so, we created an interactive visual summary of key concepts and findings, which will enable practitioners to share this research with key audiences.
Project team: Environmental Defense Fund (EDF), The Nature Conservancy (TNC),  University of Miami, University of California Santa Barbara, Belize Fisheries Department, MER Consultants LLC & Vericatch. 
 seeking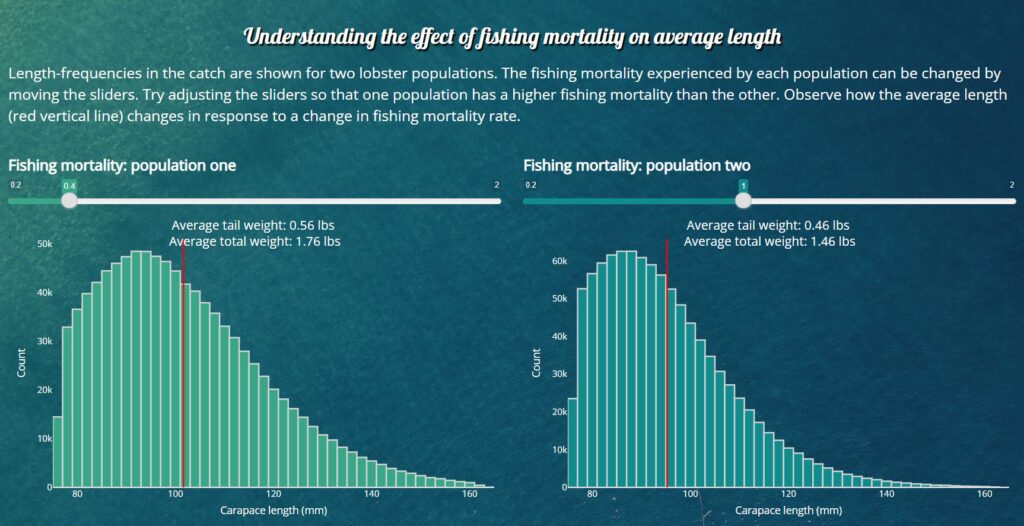 We wrote the application, including the user interface consisting of visualizations and animations and the server-side computations including population dynamics modeling. The application was created using R Shiny using Plotly and DT.
Harford, W.J., Gedamke, T., Babcock, E.A., Carcamo, R., McDonald, G., Wilson, J.R., 2016. Management strategy evaluation of a multi-indicator adaptive framework for data-limited fisheries management. Bulletin of Marine Science 92, 423–445. https://doi.org/10.5343/bms.2016.1025
McDonald, G., Harford, B., Arrivillaga, A., Babcock, E.A., Carcamo, R., Foley, J., Fujita, R., Gedamke, T., Gibson, J., Karr, K., Robinson, J., Wilson, J., 2017. An indicator-based adaptive management framework and its development for data-limited fisheries in Belize. Marine Policy 76, 28–37. https://doi.org/10.1016/j.marpol.2016.11.027